Ivory Coast: MTN launches the First ChatBot to perform mobile money transactions via WhatsApp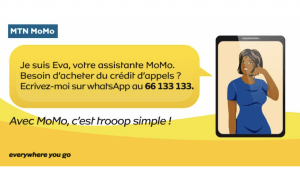 This innovation called "Eva de MoMo" is a Chatbot based on artificial intelligence technology. Eva thus plays the role of a virtual assistant, and is able to interact with mobile money subscribers on WhatsApp channels.
Different functionalities are also fulfilled by this Chatbot. Indeed :
Eva does mobile money (MoMo) operations such as checking the balance, transferring money, buying credit, paying bills, etc.
Eva takes care of forwarding the complaints to the support concerned for an effective treatment.
Eva provides advice, tips and information on MoMo services (Prices, Promotions, Terms & Conditions, customer journey).
The objective pursued through this innovation implemented by MTN consists in facilitating the access of MoMo users to exact information, 7 days a week and 24 hours a day. This, insofar as Eva responds instantly to the various concerns, while adapting to the user's request. Understanding natural language, Eva learns every day and is friendly.
Finally, note that after the WhatsApp application, Eva will also be available on other channels such as Facebook Messenger and SMS at 66 133 133.
Source: Ecofin Agency