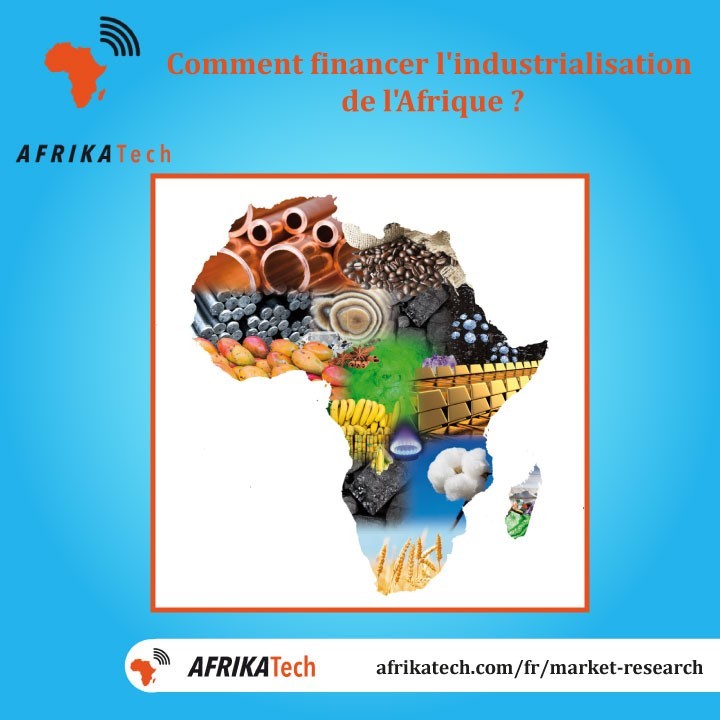 How to finance the industrialization of Africa?
Despite the exceptional increase in favor of how to finance Africa's industrialization and development in recent years, the African continent has struggled to mobilize the resources necessary for its growth and transformation. Faced with insufficient external aid for development and low prices for its products and services, Africa is forced to recognize that sustainable industrialization could only depend on its own financial resources. Hence the importance of studying the different opportunities available to Africa to finance its industrialization.
Africa: what are its financial needs?
According to the United Nations Economic Commission for Africa (ECA), building and modernizing infrastructure on the African continent is likely to lead to a 2% increase in gross domestic product (GDP). However, these elements would lay the foundations for rapid industrialization, and therefore strengthen Africa's capacity to generate more internal resources.
ECA estimates that the current infrastructure needs of the African continent amount to $ 93 billion a year. With 45 billion mobilized, the annual deficit is around 50 billion. As Ivorian President Alassane Ouattara points out, the greatest challenge facing Africa is to ensure that the various sources of finance for innovation and industrialization support its transformation.
One of the solutions envisaged would be to accelerate the development of financial markets in order to activate the transformation of African economies. Hence the importance of developing innovative financial products.
Despite progress made in mobilizing financial and technical resources for industrialization since the Monterrey Consensus in March 2002, Africa knows that much remains to be done.
What funding opportunities are available to Africa?
Africa fully understood that traditional sources of finance for industrialization were not viable and could not be viewed as only first resort solutions.
President of the Association of Chambers of Commerce and Industry of the Southern African Development Community (SADC), Oswell Binha, estimates that Africa can create a $ 2 trillion economy by simplifying the rules governing inter-African trade and investment. However, it is commonly recognized that the African continent represents the market with the highest investment potential in the world.
Indeed, Africa has the possibility of relying on its sovereign wealth funds, its pension funds, its foreign exchange reserves and its transfers of funds. The continent is also home to substantial natural resources. Countries with extractive industries can take advantage of this important source of income.
To do this, it is essential that national governments demonstrate infallible political will and put in place appropriate governance mechanisms. Revenues from mining can boost the continent's industrialization while allowing it to invest in competitiveness, diversification and the efficient and sustainable use of resources.
For ECA, the potential of the African continent is enormous. Africa is fully capable of supporting, developing and implementing viable domestic financial instruments for industrialization.
Rely on domestic savings
Carbon financing mechanisms can also be put in place to develop industrialization in Africa. Several countries are considering introducing a carbon tax to mobilize additional financial resources while tackling climate change.
Despite this, Africa's domestic savings remain low compared to other developing countries. This gap is mainly explained by the large number of people who do not have bank accounts.
However, progress is possible as soon as resources from the informal sector are used and incentives to use formal banking services are developed. Africa's savings to GDP ratio was around 22% between 2005 and 2010, compared to 46% for East Asia and the Pacific, and 30% for middle-income countries.
However, ECA puts the value of the African private capital market at around 30 billion dollars.
The role of the private sector
The private sector, especially in the agro-food industry in Africa, has expanded its role over the years, from its position as a sampler to providing more value-added services through integration
[frontpage_news widget="12479" name="ARTICLES SIMILAIRES"]