At a time when the national effort is struggling to support local rice, and to provide it with outlets, private initiatives, such as that of "Maaro Njawaan", emerge to at least relieve the farmers of Trarza, by offering them marketing prospects of their rice, at a fair price, immediately available. Interview with its general manager Safietou Kane.
Why did you develop this agrifood project in particular?
My father used us from a very young age to the rural and agricultural environment of Tékane. I'm viscerally tied to it. I have regularly heard complaints from farmers about falling rice prices and the lack of opportunities available to them. For the community that lives mainly from this agriculture, this is a serious problem.
As a result, it is a problem that has become an opportunity, which we have seized. The process came from fully understanding the process of rice cultivation, milling, sales, market, and logistics. Finally we just had to get started.
Mauritania consumes 120,000 tonnes of rice per year, and local production does not cover half of the needs. There are therefore issues of food security and self-sufficiency for a country which can legitimately and objectively aspire to it.
When meeting the farmers, what difficulties did you encounter?
(Pensive). None in particular. However, I think that all business activities, apart from the sale of clothing, hairdressing, and catering, are traditionally thought out of the reach of the female gender. Despite notable progress in tolerance on this subject, with cases of emerging women.
For example, when I go to meet the truckers to receive the rice from Rosso where it is processed, they express their surprise to see a young woman in this area, a priori reserved for men here. I have often had this kind of remark: "you are going to study in the USA (Bachelor in International Business and Management- editor's note), and you come back to work in rice !? (Laughs).
Where do you buy the rice? How do you treat it?
Rice is bought in Trarza, with all farmers without distinction. Only quality is paramount. We impose on ourselves a certain quality. So we have a price grid according to the quality of the paddy. A good paddy contains at least 50% white rice, the rest being processed into livestock feed. The rice is processed in Rosso by an external supplier to whom we specify the production of the whitest rice possible. We have attached a quality controller to ensure this.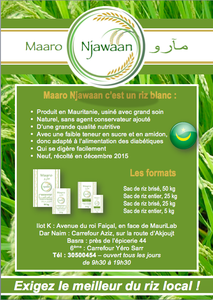 Click on it to enlarge the image.
This is a potentially important outlet for Mauritanian rice producers …
Absolutely! Agriculture offers incredible job opportunities in a country where almost all of what we consume comes from outside. Developing the economic circuit of agricultural activity therefore amounts first to offering direct outlets to farmers who can thus sell their production, and make the regularity of their rice campaigns permanent. It would also ensure workers' jobs in the rural world which needs to fix part of its young population.
Any particular word?
This kind of structure is a relief for farmers, who have the opportunity to be paid immediately in cash on sale, or 90 days later for a larger fee of 10% than the amount for direct sale. A big problem is solved for these farmers who thus make available the nest egg, or at least a significant part of the nest egg they will need for their next rice campaign.
We want to show that quality rice is available from us, and that it can be marketed. This is really one of the specific objectives of this company. At Maaro Njawaan we want to restore the image of Mauritanian agricultural products falsely equated with "poor quality" and "low prices". A very large part of the customers already in our shops have confused local rice with imported rice! It's a pride.
Source: http://www.mozaikrim.com/