Nkep, near Bangou, at an altitude of 1,200 m in the highlands of western Cameroon. Endless ballets of bulldozers have punctuated the day for four years. Francis Nana Djomou is building the largest vacation center in the region.
Also present in the food industry with Foodis, the founder and boss of Biopharma, the national leader in cosmetic products, is tackling tourism. On 20 ha from the family estate, the tourist center stands as in a jewel case: 70 high-end bungalows in the process of being completed, several artificial lakes, a 3 ha unit dedicated to organic farming, a botanical garden with rare species from all over the world, a zoo, an educational farm, riding, fitness and conference centers, football, basketball and tennis courts suitable for high-level competitions …
Invest far from cities
For the entrepreneur, there is no reason for big cities to monopolize most of the development projects and for villages to be neglected. If he thus hopes to slow down the rural exodus, he also obeys an injunction from his late father: to promote Nkep. Village chief, the latter was sorry to have had to choose between the education of his numerous offspring and the development of his locality. With the support of the new chef, Philippe Fangueng Nana, he wants to make it a recognized destination, a haven for African tourists.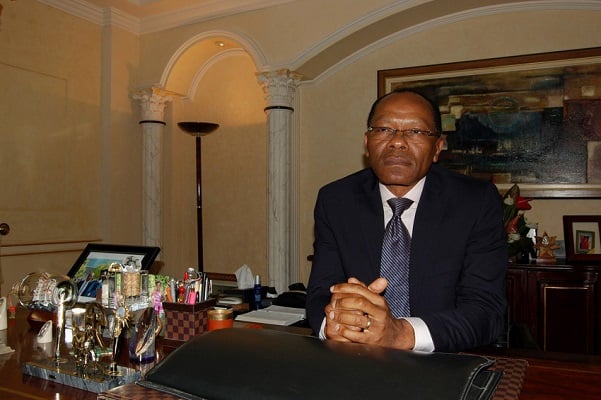 In this dry season, nearly 200 people work full time on the site, including more than 80 in the botanical garden. Numbers which double in the rainy season, during the sowing period. Of course, Francis Nana Djomou has recourse to foreign expertise (French interior designers and electricians, Spanish tilers, South African landscapers), but he requires the training of a local workforce. For two years, students from surrounding villages have been able to find small jobs on site and thus cover their tuition fees.
A sports village for CAN 2019?
While he estimates the total cost of the project at around 2 billion CFA F (3 million euros), the promoter has no doubts about its viability. According to this, demand precedes supply. Between November and April, the West lives to the rhythm of weddings and funerals. This period could therefore ensure full occupancy of the premises. And then there are the many university centers around, which attract many teachers in search of accommodation.
Francis Nana Djomou, who so far has financed his project out of his own pockets, will seek donors to bring it to fruition. He is also hoping for some subsidies from the state, with which he is negotiating to make this center one of the sports villages for CAN 2019. The capacity of the complex would then be increased to 120 rooms. Subsequently, the state could also accommodate its officials on mission in the region. The businessman is already imagining side projects, such as the industrial production of roses in a nearby village. Bangou enjoys a climate similar to that of Kenya and Ethiopia, leaders in this sector …
Churches and football stadiums
Another career motivated by personal reasons, that of Pierre Ntchouayang, CEO of the Meno group, specializing in bakery and pastry. At the end of the 1950s, he was only 3 years old when his parents were kidnapped and killed in Balengou (western region) by guerrillas. Fifty-two years later, it is in this locality near his native village that he will build his "Church of Forgiveness", a minicathedral inspired by St. Peter's Basilica, in Rome. "Because the assassins weren't responsible. They were just following orders. "
To build this edifice, in front of which sits a 2.5-ton statue of the Virgin Mary, Ntchouayang paid around ten visits to the Holy See. He ordered his stained glass windows directly from Venice and for six months hosted an Italian priest, who painted three huge pictures. The region owes him three large churches and a future 2,000 m2 football stadium, for which he refrains from evaluating the sums involved and says he does not expect any return on investment. "More than the money spent, it's the heart that counts," he says.
Long before Pierre Ntchouayang, and in a register that combines faith and business, pharmacist Micheline Dsamou had paved the way by donating to the faithful of the Evangelical Church of Cameroon, in Bangangté (capital of the Ndé department), of everything a missionary center called Tekam Mesack, named after his late father, for 1 billion CFA francs. Inaugurated in 2015, the site hosts, among other things, a monumental temple with 3,000 seats, a training center, a hotel complex, and a hospital care and fitness unit. Operational only in part, the whole already employs some 400 people.
Infrastructures offered to the State
Sylvestre Ngouchinghe, the boss of Congelcam, leader in the distribution of seafood throughout the sub-region, has also chosen to invest in a more personal project, by building the new chiefdom of his village of Bamougoum, in the west of Bafoussam. Billionaire Victor Fotso offered the state a university hub as well as the hotel in the Koung-Khi department and the Bandjoun town hall, built with their own funds for more than 4 billion CFA francs. An approach hailed by some, criticized by others, especially intellectuals.
So, for academic Ambroise Kom, it is heresy that has nothing to do with philanthropy. He considers such donations backward, especially when they do not boost the economy. "Even rich Americans don't build public buildings. At the most, we can admit that a patron offers a school. You don't build for the state unless you want to flatter an enlarged ego. "
Young Africa