With a $ 16 million fundraising in September, Yoco does not seem to be suffering from the gloomy climate in the recently recession-hit South African economy. Launched in 2015, it already boasts nearly 30,000 customers.
The start-up Yoco, based in Cape Town, aims to facilitate economic integration by making card payment accessible to small businesses. A market still little explored, according to its director of business and co-founder, Carl Wazen.
Since its launch in 2015, the startup has been a success story that impresses investors, growing double-digit month-over-month and tripling its client base in just over a year. Its tool: mobile point-of-sale technology, which combines a small payment terminal with a free application downloaded to the seller's mobile phone.
Yoco thus plays a role of payment facilitator in a country where, despite a strong penetration of the bank card, many merchants are still limited to payment by cash.
A technology adapted from the United States
It was in 2009 that Carl Wazen met Katlego Maphai, the current CEO of Yoco. Both of them work for the consulting firm Delta Partners, one in Dubai, the other in Johannesburg. They stay in touch, and decide a few years later to embark on a joint trip to Cape Town.
"After meeting many local merchants, we wanted to try to build something solid here," says Carl Wazen from the company's headquarters. We had no clear idea, but we were ready to take the plunge. "
The two friends leave their respective careers and then engage in researching the concept of their future business. Meanwhile, Katlego Maphai meets Bradley Wattrus – Yoco's current chief financial officer – at a project in Lagos, Nigeria. Lungisa Matshoba, Mr. Maphai's childhood friend, joins them shortly after the sale of his first business. In early 2013, the founding team of Yoco is formed.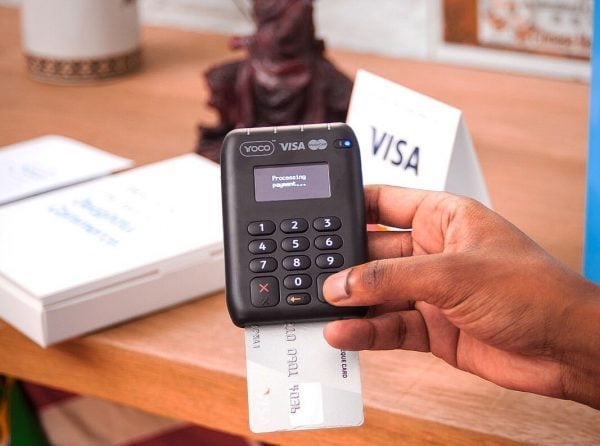 After identifying a promising market in the mobile point of sale, a technology that is developing in the United States and Europe at the time, the four entrepreneurs are betting on exporting this model to South Africa. Several years of strategy development followed: acquisition of permits, solicitation of banks to establish a collaboration, solicitations from angel investors and relatives to raise seed money …
Lightning growth
Yoco is officially launched in October 2015 – "and here we started to grow," jokes Carl Wazen. Their growth is indeed blazing: "Between 2015 and 2016, we increased our customer base by ten, from 500 to 5000 merchants. We had already raised approximately $ 4 million (€ 3.5 million) from our families and angels for seed, and at the end of 2016 we were able to launch our first real fundraiser. "
The following, last September, reported $ 16 million (14 million). Yoco is now on the verge of breaking the 30,000-customer mark, and employs more than 100 people.
"We managed to show from the first steps that we were organized, methodical in the implementation of our objectives, and that we really understood the market," said Carl Wazen. To cope with their competitors already well established on the market, the four budding entrepreneurs pay particular attention to look after the relationship with their customers.
$ 280 million in annual transactions
What sets them apart, says the director of business, is their effectiveness: "We wanted merchants to receive a Yoco card machine as easily as if they were buying a simple product online or in a store."
With $ 280 million worth of transactions on its system in a year, Yoco is today the first mobile point-of-sale field company in the country – and "by far the most accessible," continues Carl Wazen. "We accept 98% of merchants who request our services, and requests are approved in just five minutes," he says. With a focus on streamlining the process, customers are integrated into their system: "In cities, the card machine is delivered the same day or the next day. In rural areas, traders receive it in two or three days. "
This success makes it an exception in South Africa, where the government announced its entry into recession in early September. "I find it fascinating that, despite the current economic situation, small and young companies are still quite optimistic," says Yoco's co-founder. This is what this country needs. Our role is to give a voice and legitimacy to these people, and to show where the future growth of our country will come from. "
Towards a pan-African market
With their success in South Africa, the four leaders of Yoco have already turned their eyes to the North, planning an expansion in other countries of the continent. Two small pilot projects were launched in East Africa last year, exploring a model turned primarily to mobile direct payment.
"Our goal is to be a pan-African company or even a company in all emerging markets," enthuses Carl Wazen.
But these international horizons are not the priority, before the next two or three years, "because the co-founder of Yoco estimates to have" still a long way to go here ": according to his estimates, nearly a million small and medium enterprises in South Africa are ripe to accept payment by credit card.
Jeune Afrique